2019 was another busy year for the Ontario Community Emergency Assistance Program (OCEAP).  While we may have been a bit negligent in posting our activities – we have pulled together a bit of a Year in Review.  This is only a portion of the services we provided but is reflective of ourTeam members dedication, professionalism and desire for good natured fun.  What an awesome group!
March Training – Field Training exercise
April – Float Your Fanny Down the Ganny Event – Supporting Port Hope under the direction of Port Hope Fire.
APRIL – Town of Cobourg Clean up Day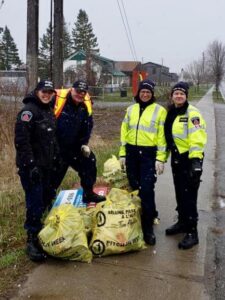 Pitching in to do our part!
June – Cobourg Highland Games 
An annual Team Fund Raising Event.
June – Highway for Heroes Ride (Port Hope)
July – Canada Day (Port Hope)
September Training – Field exercise
October – Partner Exercise – Northumberland County
November training – Field exercise
November – Cobourg Santa Claus Parade (participant)