The summer is a busy operational period for our OCEAP volunteers.
Cobourg Community Connections Expo
June 3-4th – OCEAP members were on site to promote our Volunteer Team!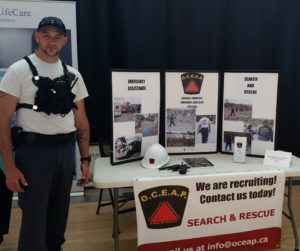 CANADA DAY – July 1st
OCEAP members assisted Port Hope Police with road blocks for the parade.  Immediately following the parade, members relocated to the Cobourg Waterfront Festival.  OCEAP members covered all three days of the Festival assisting with missing person calls.
Port Hope Police Fishing Day – July 8th
Cobourg Police – Community Safety
OCEAP assisting CPS at both the Sandbanks Provincial Park and Kingston events.
August Full Team Meeting – August 10th
New! OCEAP Partnership
OCEAP announced the partnership with RESPOND Search and Rescue.  Our organizations will work together to enhance the support we give our communities.  Welcome!